Your office workplace did change while you´ve worked from home: Interiors, physical designs, divided workstations, creative zones, new environments - everything is now ready to embrace the future´s workflow and social patterns.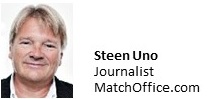 For more than a year, you've heard it over and over again: Your future office workday after the corona will never be as it used to be.
Therefore, you are prepared to see the layout of the company's office spaces and areas has been changed to a more airy environment with probably remarkably fewer permanent workstations than before.
Probably, your employer has already informed you that in future you and your colleagues won´t have to physically show up at the office every five days, but maybe just two or three times a week.
Now is the time for you to return to your company office to check out the changing environment and new framework of your post-corona working life.

As a clubhouse
"Getting together is hugely important because you need to socialize, you need to bond and be creative. But the idea of people going to an office and sitting there all day, every day, with their laptops and then going home, that's going to be a thing of the past.
We'll be thinking of offices more as clubhouses. If one day a week the marketing team needs it to get together for a social thing, that's when they can use the clubhouse," states Craig Walker, CEO of cloud platform Dialpad.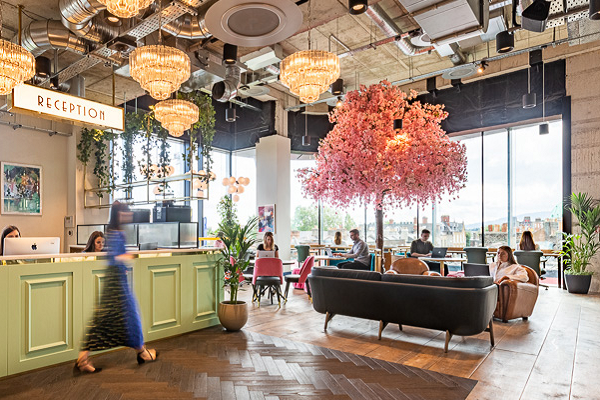 After the reopening, your future office workplace will take the form of a 'clubhouse',
where employees show up when they feel the need to interact with managers and
colleagues, experts anticipate. Photos: iconicoffices.ie


After the covid pandemic, the future office workplace will turn to be a place where the company can reflect their brand and culture as well as give their employees space for social interactions.
The office clubhouse will increase employees feelings of confidentiality, identity, ownership, pride, and lots of positive energies that will inevitably spread to the company's customers and visitors.

Ecosystem
The future office after Corona will be an elastic and flexible forum where employees will check-in as needed to get in touch with, interact, collaborate and develop ideas with colleagues before returning to their home offices and their individual tasks.
This new mixed workplace presupposes a highly developed digitalized work environment that manages to embrace and integrate team culture and connect employees within and outside the company's physical framework in a digitally connected ecosystem.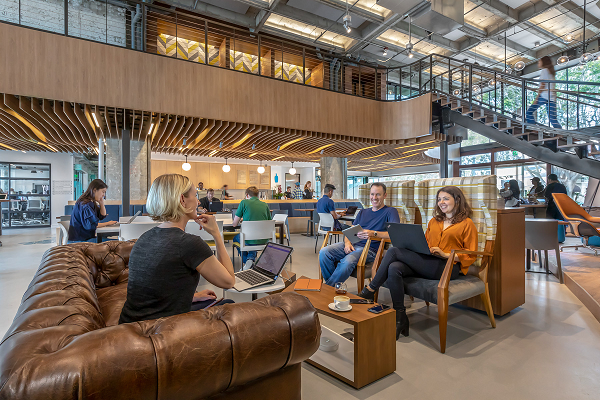 The future office workplace should be a forum where the company can reflect its
brand and culture, and where employees are offered space for social interactions.
Photo: rmaphoto.com


"Our offices will certainly continually take shape in the direction of clubhouses, where employees occasionally meet to talk ideas over a cup of coffee or a meal," CEO of Silicon Valley company Bluescape, Peter Jackson says.
"With an atmosphere and conveniences that cannot be created in a home office, the new exciting work environments will inevitably give many office workers the desire and motivation to show up when they want to interact with others."

The three Cs
In addition, many office workers around the world may find that in the future they may be asked to make a reservation for their office or workstation because the company's desks will have to be shared.
When employees, in general, can choose that they want to work from home two to three days a week, the workplace will no longer require the same space needs as before the corona.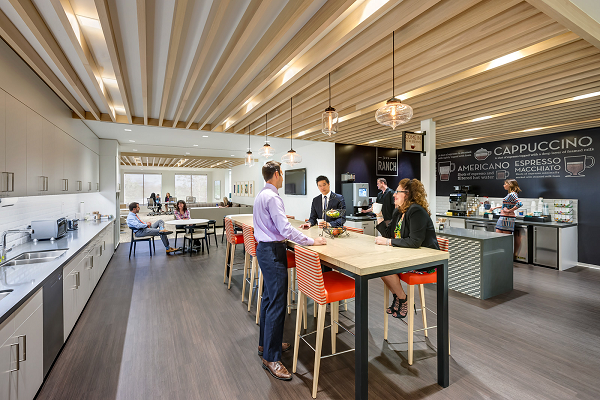 The three Cs - Creating, Collaborating, Celebrating - will form future headlines for
the work and social togetherness in US insurance company Voya Financial's many
office environments. Photo: rmaphoto.com


According to the HR director at US insurance company Voya Financial, Denise Nichols, approx. 20% of their employees worked from home before the corona pandemic - a quota she expects to rise to 60% when Voya´s offices reopen.
"In future, we will arrange our office environments according to the three Cs: Creating, Collaborating, Celebrating. The three letters will form headlines for our future togetherness when we meet together in Voyas' physical settings.
At the same time, it means that much of the daily routine work will no longer be something that we will have to show up in the office to handle," Denise Nichols adds. ●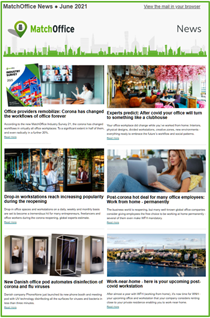 Read more:
Reuters.com: Post-COVID-19, the office will be a clubhouse